Internship and involvement
Do you want to work together with people from all over the world in a self-organised grassroots democratic project in Berlin? As a member of the SKB you can offer language courses in your first language or get involved in one of our numerous working groups. There is also plenty of room for your own creative ideas and projects.
If you want to become an SKB member and work at the SKB on a freelance basis, you first have to do an internship with us. The internship lasts one semester. You should expect an average time commitment of about 7 hours per week, which you can, however, freely arrange to a large extent. During your internship you must be a registered student.
After successful completion of your internship, you will be welcomed as an SKB member and can work at the SKB on a freelance basis.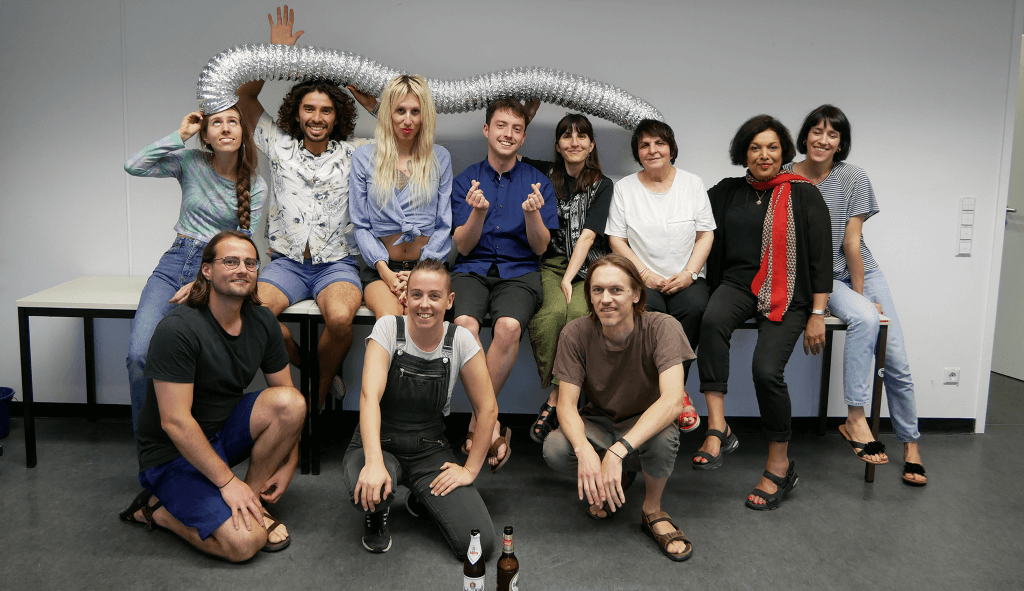 Internship in winter semester 2023/2024
The internship takes place from 29th August 2023 – 29th February 2024. Thus, the SKB membership and independent teaching will be possible from March 2024.
We are currently looking for interns for the following languages:
Afrikaans, Albanian, Arabic, Armenian, Bengali, Bulgarian, Croatian, Czech, Danish, Dutch, English, French, German, Greek, Georgian, Hebrew, Hungarian, Icelandic, Korean, Kurdish, Marathi, Norwegian, Punjabi, Romanian, Serbian, Kishwahili, Tamil, Turkish, Ukrainian, Urdu, Vietnamese, Wolof
It is important that you apply for your native language. Is your native language still missing at SKB? Then we would also be happy to receive your initiative application.
A brief overview of the application process:
The application deadline ends on 11th August 2023.
An info meeting takes place on the 15th August 2023 from 18h-19h. There we present the internship and the SKB and questions can be answered.
An interview with your language group at SKB will then take place between 16th - 28th August 2023.
The first internship meeting will take place on Tuesday 29th August 2023.
If you are interested in the internship, please read the following information carefully and send us your application by email within the application deadline to praktikum@skb.tu-berlin.de . In addition to your CV and a current certificate of study, please also send us a short cover letter in which you tell us why you would like to do an internship at the SKB.
What will you be doing during the internship?
You will sit in on different courses with different teachers in your "language group" and get to know different language levels and teaching methods.
You will take part in the monthly SKB plenum (our general meeting) and get an insight into the grassroots self-administration of the project.
You will get to know different working groups and decide for yourself in which working areas you would like to be actively involved (e.g. advertising, further education, language programmes for refugees, IT, cultural initiatives, etc.).
In various didactic workshops you will acquire a basic knowledge of teaching methods and lesson planning and reflect on your experiences sitting in on courses and your own teaching ideas.
Towards the end of the internship, you will conduct a few lessons yourself in the presence of the respective course instructors.
In regular intern meetings, you will exchange information with other interns about your internship experiences. In addition, you will learn more about the organizational structures and processes of the SKB (e.g. our rules of procedure, plenary motions, financing of the working groups, etc.).
Normally you will be part of a "language group" and take part in the activities of your language group (e.g. assistance with the placement tests during the enrolment phase, group meetings, etc.).
What do we offer you and how do we accompany you?
The SKB is a self-organised grassroots democratic project with very flat hierarchies and lives of the commitment of its members. This is also reflected in the internship: as an intern, you don't have to make coffee or copy anything. The goal of the internship is that you get to know the members, work areas and processes of the SKB and find your own place with us.
Especially in the beginning, the structures and processes at the SKB can seem a bit confusing. Your internship supervisors are always there to help you with questions and problems. They will support you in finding your way around the structures of the SKB and organising your internship.
The SKB is largely self-financed. This means that the money for workshops and the support in the internship must first be earned through our course fees. For this reason, we unfortunately cannot pay you during the internship. What we do offer you: valuable experience in a diverse transcultural project and a variety of opportunities to contribute with your interests, implement your own ideas and further your development according to your own wishes.
What would we like from you?
You are enrolled as a student at a university or college in Berlin or Brandenburg.
The language you are applying for is your native language. You also speak German at about B2 level. This is important because German is our common language at SKB and almost all communication takes place in German.
Since the internship is parallel to your studies, good time management is very important. You should be able to dedicate an average of about 7 hours per week to your internship. Some dates and times are fixed (e.g. for workshops, plenum, interns' meetings). To a large extent, though, you can plan your time very flexibly: for example, you can be less active during your exams and more active during the quiet times of the semester.
You should also have the desire to be involved in the SKB for a longer period of time after the internship.
You want to work in self-organised structures (maybe you already have experience?). In this context it is important that you approach others openly and communicate actively: questions and new ideas are always welcome! A desire for self initiative and involvement are essential.
You are interested in grassroots communication and decision-making processes and understand that such processes can sometimes take a long time. Openness to different perspectives, an appreciative and constructive attitude and a lot of patience in decision-making processes are important at SKB!
You are interested in intercultural exchange and would like to introduce your language and culture(s) to other students. Whether you have previous teaching experience or not, you should be interested in and enjoy language teaching topics.
So, do you want to become part of the SKB? Then apply now! We look forward to your application!
Do you have any questions about the internship? Then write us an Email.